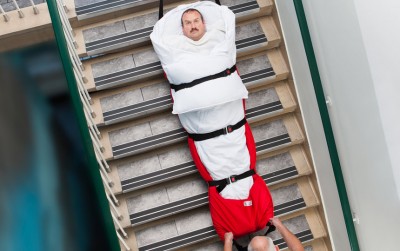 A popular design of evacuation equipment used in hospitals, hospices and any other location where individuals are likely bedbound is the ski sheet. Sadly unrelated to alpine pursuits, the ski sheet is a practical solution to the need to evacuate individuals swiftly and safely without the ability to remove them from their beds. The ski sheet is a large plastic sheet which is placed under the mattress of the bed. The bed is then made normally on top of it, and the ski sheet is unnoticed during normal use.
In an emergency, the ski sheet can be pulled out and fastened across the mattress and patient by two restraining straps, making the mattress, pillows, bedding and patient into one fully contained bundle. This can then be lifted off the bed and dragged to safety without needing to move the patient into another evacuation chair or needing them to be mobile. The padding of the mattress and pillows makes dragging this through a hospital or other building perfectly safe and comfortable for the patient.
However the ski sheet cannot easily be used where the doorways and passageways are too narrow for a standard mattress to be pulled through them. For this reason the ski pad was developed. Very similar to the ski sheet, the ski pad is a narrow mattress with the ski sheet built into it. It packs up into a small bag, and in an emergency can be quickly unrolled and the patient transferred from their bed onto the ski pad. They are then wrapped in a blanket and given pillows, and bundled up in the ski pad in the same fashion as for a ski sheet. This narrower and more manoeuvrable bundle is then evacuated out to safety.
The ski sheet and ski pad do have some drawbacks, especially in the area of bariatric patients. The ski pad has a maximum recommended weight of 120kgs, and while it is tested to a much higher weight it is obviously not ideal for very overweight patients. For these patients a reinforced ski sled is available, which is a heavier weight version of the ski pad and suitable for patients up to 180kgs in weight. Like the ski pad it is stored in a small pack and unfolded for emergency use, and once the patient is secured they can be transported in much the same fashion as a ski pad.
Ski sheets and ski pads are the first line evacuation tools for any institution with bed bound individuals, and are essential equipment in hospitals, nursing homes where in an emergency they are simple enough to be used untrained, allowing all staff to help with evacuation of the most vulnerable and least mobile individuals to safety. The ski pad and ski sheet even allow for patients to be safely dragged down flights of stairs, allowing all floors of a building to be utilised without compromising patient safety.